Hermes reprints 'Dark Shadow' comics
Wednesday, September 16 2009, 6:26am EDT
By Hugh Armitage, Comics Reporter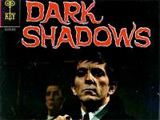 Hermes Press will reprint the complete 35-issue run of Gold Key's Dark Shadows comic.
The comic was based on the television series of the same name - a Gothic soap opera considered to be the forerunner of modern supernatural-themed TV shows and movies.
It was originally published between 1968 and 1976.
Tim Burton has announced that a movie remake of Dark Shadows, starring Johnny Depp, will be his next major project.
Dark Shadows featured the brooding vampire Barnabas Collins among a cast of werewolves, ghosts, zombies and witches.
The first of five hardback volumes will be released in March 2010.